I have seen a lot of things in my 35 years on this planet, but last Saturday must have been one of the most magical evenings of my life.
Tulsa experienced its first ever Fairy Festival, and I had the honor of presenting an enchanted storytime, complete with music, dancing, puppets, and bubbles! It was so much fun to see an entire flock of fairies join each other in song and play.
It was almost otherworldly to be surrounded by so many beautiful fairies. You can get an idea by viewing this gallery published by the Tulsa World. I was so inspired by this event, I decided to put together a list of my favorite fairy books. Hopefully, readers of all ages will find something to engage their imaginations.
I'm linking to the Amazon listing for each title so you can gather more information and, in most cases, see a preview of the book. These are not affiliate links, and I gain nothing from any clicking or purchasing you might do. There's a good chance your local library has many of these titles available if you see any that spark your interest. Enjoy!
For Babies & Toddlers
A Midsummer Night's Dream: A BabyLit Fairies Primer by Jennifer Adams-  A short and sweet telling of Shakespeare's beloved story, adapted for the tiniest of readers.
Good Night Fairies by Adam Gamble- What better way to send your little sprites off to dreamland than a charming bedtime story?
Fairy Friends series by Merrilee Liddiard- This set of board books teaches little ones about seasons, colors, counting, and opposites using colorful photography and whimsical fairy illustrations.
Picture Books
Child of Faerie, Child of Earth by Jane Yolen- If I had to pick a favorite fairy book, this would be it. Although I opted for shorter books during my Fairy Fest performance, it would be perfect for a quiet storytime at home. The story and illustrations are breathtaking.
Backyard Fairies by Phoebe Wahl- A trek through an enchanted forest gives readers a glimpse of a fairy realm, with rhyming text and a sweet ending.
The Fairiest Fairy by Anne Booth- Yet another that was a bit too long for storytime, but so cute nonetheless. A rhythmic story about embracing who you are, quirks and all.
The Foggy, Foggy Forest by Nick Sharratt- As for my own little sprite, this was definitely his favorite of the fairy books. Transparent pages reveal a variety of forest creatures.
A Fairy Went a-Marketing by Rose Fyleman- This beautifully-illustrated story reads like a poem and gently embraces concepts such as kindness, freedom, and generosity.
For Young Readers
Pinkalicious Fairy House by Victoria Kann- A sweet tale celebrating the magic of make-believe, with gorgeous colors and dreamy illustrations that will leave your little fairies spellbound.
Tooth Fairy's Night by Candice F. Ransom- Because we can't have a list of fairy books without including at least one story about the Tooth Fairy! This one has a fun plot, with small sentences perfect for beginning readers.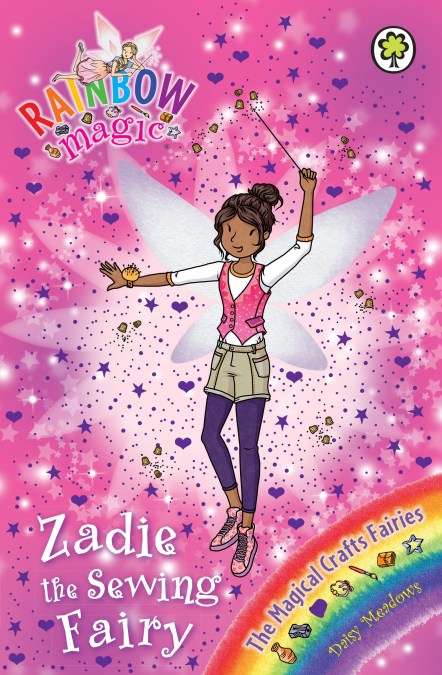 Rainbow Magic Fairies by Daisy Meadows- This series is massive with more than 250 titles in all, but I can tell you from my years in the library- the little fairies LOVE these books.
For Teens
Fablehaven by Brandon Mull- Fairies are only a small part of this mesmerizing cast of characters! Mull's writing is imaginative and humorous.
Artemis Fowl by Eoin Colfer- The first in a hugely popular series, this one is often recommended to fans of Harry Potter.
The Darkest Part of the Forest by Holly Black- I made a point to include Holly Black on this list, because her work is unmistakably magical. This eerie story would be great to curl up with in the fall or winter.
For adults
Among Others by Jo Walton- A unique and adventurous coming-of-age story, Walton did a great job of making a fantasy novel feel relatable by including familiar themes such as family issues and grief.
A Court of Thorns and Roses by Sarah J. Maas- This author has a writing style that will grab your attention from the first page, with witty dialogue and interesting characters. This is the first in a bestselling trilogy.
Have a lovely night, and may all your fairy dreams come true…